In an article titled Why Apple Pay Is Fizzling and What It Means for the Future of Mobile Payments, MPD founder David Evans writes:
"Apple Pay is fizzling. And unless it drastically changes course Apple Pay will follow the hundreds of other attempts, made around the world in the last seven years, that have sputtered along at low levels of use or, much more frequently, have just flat-out died. The evidence from Black Friday confirmed my fears. InfoScout did a survey of 400+ people who (a) had IPhone 6s and therefore could have had Apple Pay on their phones who (b) were paying at stores that had NFC terminals that accepted Apple Pay. So these are 400+ people who could have paid with Apple Pay. Less than 5 percent did."
My take: It's way too soon to be calling the death of Apple Pay.
***
Take a look at the following charts showing iPod sales.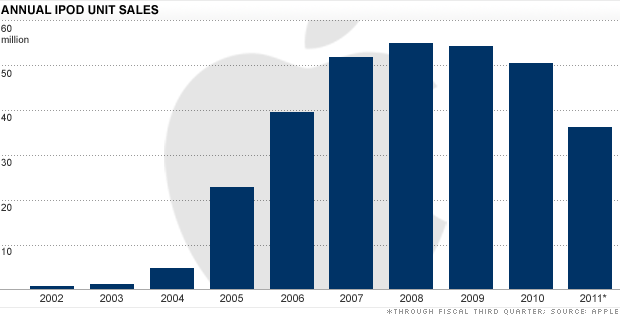 Pronouncing the failure of Apple Pay in December 2014 is akin to proclaiming in Q1 2002 that the iPod would be a failure.
And there were plenty of reasons–two-side reasons as Mr. Evans might call it–to support an iPod death notice in Q1 2002: Consumers didn't know what it was, there was no music no buy online, anyway, they were perfectly happy buying CDs (and certainly wouldn't want to have to throw away all those CDs they had amassed). On the other side of the coin, music publishers and the stores that sold those CDs certainly had no vested interest in supporting the sale of iPods.
I would imagine that a survey of 400+ people who bought music back in Q1 2002 might show little interest in something called an iPod.
***
The InfoScout survey may very well be a representative sample of iPhone6 owners, but are existing iPhone6 owners representative of the overall public?
In addition, it seems very unlikely to me that a primary reason for those people who rushed out to get an iPhone6 was the Apple Pay feature. So what should we expect from the 400+ iPhone6 owners who were surveyed?
***
The point (put forth by Mr. Evans) that Apple Pay can't be used at 98% of merchant locations isn't a compelling death knell, either. Last I checked, both American Express and Discover were not accepted everywhere. They're not dead.
It doesn't matter how many places accept Apple Pay–it matters which places accept it.
***
Payments isn't really a two-sided market. It's more of a three-sided market: consumers, banks, and merchants (and I can't help but wonder if, when talking about mobile payments, I need to throw in the telcos, and make it a four-sided market). All of which just makes any change in the market harder–and slower–to come by.
The "hundreds" of other attempts that have sputtered or died had, or have had, insufficient support from the constituents in the market. Many have tried to simply garner consumer support without sufficient support from the banks or merchants. Or have presented delusions of interchange reduction to the merchants, without any game plan for winning over consumers, and figuring the banks would roll over and play dead.
Sure, Apple Pay hardly has the support of many merchants–at the moment. But the lack of merchant support isn't the same across the board.
A large percentage of the 98% that don't currently accept Apple Pay may never accept any form of mobile payment, and who really cares, since a large of percentage of that 98% represent maybe 0.1% of all sales.
The "merchants that matter" fall into two (overlapping) categories: 1) Those that represent a good percentage of retail sales, and 2) Those where current and future iPhone6 owners shop at and buy from.
It's the latter category that I don't hear a lot of the pundits talk about. Everybody wants to focus on the MCX merchants not accepting Apple Pay. But Apple Pay can drive payment volume by following the Amex strategy–not accepted everywhere, but by enough of the places where Amex cardholders shop at. Case in point: Whole Foods.
***
Bottom line: I hate bad analogies, but I won't let that stop me from giving one. Apple Pay isn't a carbonated beverage losing its fizz. It's more like a wine that needs to be aged.
The "aging" process for Apple Pay does involve a lot of moving parts: iPhone6 adoption, changing consumer behavior, bank (and credit union) support, and merchant acceptance (reluctant or not). In a three-sided market, strong support from two of the sides will probably be enough to bring along the third (even if it is kicking and screaming).

Which is why MCX is DOA. It's all about one side of the market–the merchants. It can talk all it wants about how it's supposed to be good for consumers, but that message has little meat to it.
Apple Pay, on the other hand, will provide additional convenience to some consumers and may provide other benefits in terms of yet-to-be developed features (for examples, see The Mobile Moments of Opportunity), gives a huge boost to banks (i.e., keeps them in the game), and is promised to benefit all parties in terms of reduced fraud.
That said, just because you let a wine age a few years doesn't necessarily make it a good wine. But it's simply too soon to say Apple Pay is "fizzling."