Each year, Target Marketing publishes a list of the Top 50 (Direct) Mailers of the year. The 2012 list has some interesting changes from 2011.
Among the top 5 mailers this year are three financial services firms: JP Morgan Chase in the top spot, followed immediately by Citigroup, and Discover at #5. Mutual of  Omaha, an insurer, just misses out on top 5 status in the sixth slot. Also among the top 50 was GEICO at number 16.
As a point of comparison, in 2011 only three financial services were on the list: Citi at #1, GEICO in the third position, and Mutual of Omaha at #4. Chase and Discover weren't even top 50 last year.
Here's my take on what could help explain these changes:
1. Credit cards are making a comeback. After a few lean years, some combination of three things — the economy, demographics, expanding target bands — are impacting the credit card market. The economy as a whole doesn't appear to be improving too rapidly (if 2008-2009 was the Great Recession, then 2010-present is the Worst. Recovery. Ever.), but issuers may be seeing improving credit scores that are fueling their offers.
Demographics may be impacting that as well — older Gen Yers are solidly in their late 20s/early 30s, more established in their financial lives, and reaching a life stage (i.e., home ownership, starting families) where having access to credit is more important.
In addition, issuers may be expanding their targets to "marginally" high end consumers, and not just solidly high end prospects (most of whom probably have more cards than they need).
 2. The channel is performing. By all indications, credit cards demonstrate the highest rate of online product applications among major financial products. But although online research for credit cards is prevalent, that's not to say the direct mail channel isn't effectively driving consumers online to research, and ultimately apply.  I haven't seen direct mail response rates recently, but with the financial troubles that the USPS has had, I'd bet they're making it more economical for large mailers to run campaigns. So even if response rates haven't improved, a lower cost of mailing drives up ROI.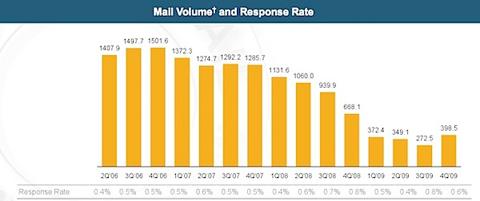 The other aspect of channel performance that could be impacting the change in mailing volume is an improvement in analytical models. I've had a number of conversations over the past six months with leading marketing services providers who have talked about new analytical offerings driving improved performance, Equifax's True In-market Propensity Scores being one example.
3. Other channels are under-performing. The reality of the card market might just be that no channel can drive customer acquisition like direct mail can. TV? I guess not. Email? Nope. Social media? Muwahahaha! You must be kidding be. It's interesting to note here that JPMC, the new #1 in direct mail, is mentioned by nearly every financial services conference presenter as a "best practice" in social media for its Chase Giving Facebook page. Is it successful at driving large scale new cardholder acquisition? If it was, would Chase put as many resources towards direct mail as it does? Maybe, but I'd bet not.